Dear Partner,
Welcome to MOL Group's eSourcing system. In the following description, we provide you with some instructions and guidance for the successful registration of your company in MOL Group's supplier database and e-bidding system.
After clicking on "New Supplier Registration" you are kindly requested to provide answers to questions grouped to 9 categories, represented in the following separate sheets:
General data, Material classification, Company documents, Regional presence, References, Finance, Legal, Ethics, HSE (and technical depending on the activity of Partner).
You can reach the sheets by clicking on their labels in the header. Please go through all of them. Fields marked with * are obligatory; however, we kindly ask to take some more time and fill in all other fields as well to make our procurement process smoother and more effective.
Initial steps:
•
Selecting language of registration: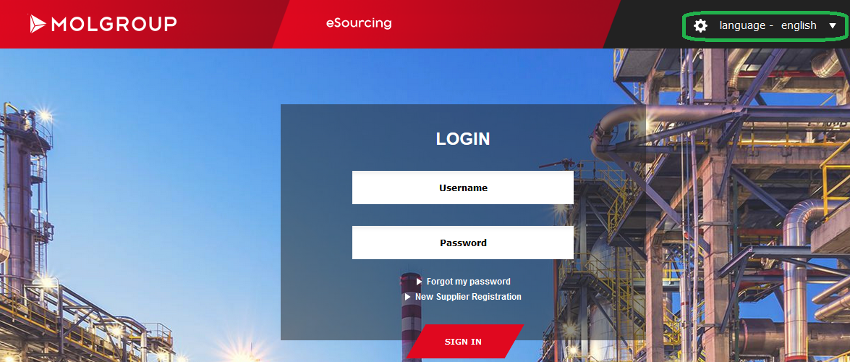 •
Selecting default language for future use: 
        Under General Data tab – Default language field:

•
Downloading questionnaires: 
At the bottom of the
Finance
,
Legal
,
Ethics
,
HSE
sheets you will find a link named
"Pre-screening questions in Word"
which opens a
"Supplier registration – list of questions"
document in 11 different languages containing all the questions listed in the above mentioned four electronic sheets. We recommend you to start your registration with downloading it as this can help you collecting the necessary data by spreading the .pdf document to your peer departments, if necessary. 
•
Uploading necessary documents: 
For the sake of smooth registration, we propose to also collect the company documents and certificates enlisted as mandatory under Company documents tab before starting the process. 
       •
Please study the
"Online Bidding Terms and Conditions"
document available in 11 languages via a link on top of the Company documents sheet. You are kindly requested to provide some company data on the last two pages, print it, and upload the scanned version of the duly signed document. Please note that the Online Bidding Terms and Conditions shall be signed by a statutory person who can act on behalf of the company. No validity date shall be set for this document in the system during uploading.
       •
In case of uploading other documents the validity date shall be set in the system. In case of
"Financial Statement"
, it should be the official date of publishing the next year's financial statements.
Please be informed that during the registration process your company will be identified in Bureau van Dijk's international company database. If you fill in Name of Company; TAX ID and Country (Registered seat) on General data sheet, the public data transferred from this external company database will be shown in the System. It will appear in the "Company data from Bureau van Dijk ORBIS database" column as well as in the first column, which can be overwritten in case you claim them inaccurate.
        Please generate your password by click on the Forgot password link from the entry page.
Should you have any process related questions or other incidents please contact:
•
The service provider's Help Desk (email:
helpdesk@eeebid.com
; telephone: +36-1-999-6738 or +36-1-354-1252 – English, Hungarian; +385-1775-7261 - Croatian; +420-222-714-007 – Slovak and English language support).
•
MOL Group super user support: email:
ebidding@mol.hu
; telephone: +36-1-464-0464
We are looking forward to our cooperation!
Kind Regards,
MOL Group Procurement